Australia Business
real estate agents in defamation case sparked by boss' 'humiliating' all-staff email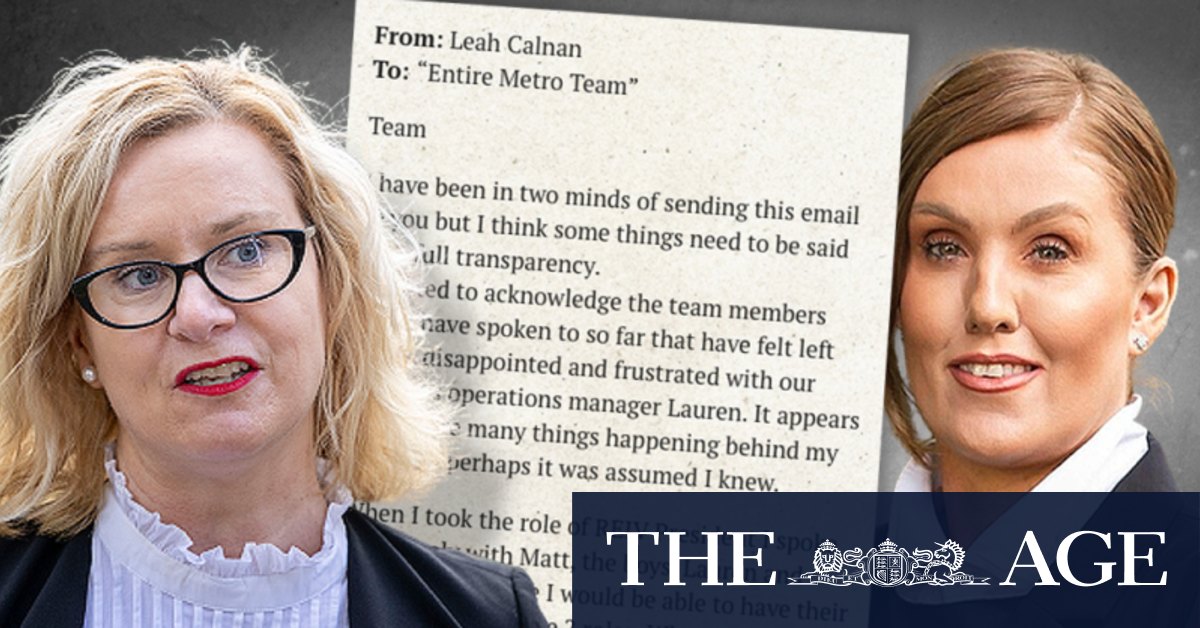 Calnan went on to explain in the email that her position as REIV president during the COVID-19 pandemic meant she had to focus on that role seven days a week.
After two terms as president, Calnan is now vice president at the REIV.
"I relied on my support network to ensure Metro and the team were being looked after," she wrote in the email.
"It's [sic] now appears this just didn't happen."
There were around 25 people on the "Entire Metro Team" distribution list who were sent the email, according to court documents.
While Macpherson can't say exactly how many staff read the note, she argued most would have opened it because "it was a derogatory email from their boss concerning a former boss."
In the email, Calnan also apologised to staff "for letting you down", listing several examples of things that weren't handled correctly in her absence.
"For the training you were promised but didn't receive. For the clicky groups that developed. For the time you didn't feel you could eat your lunch in the lunchroom. For the people who had to cover additional kitchen shifts because team members were not required to complete that duty," the email said.
"For the behavior that wasn't fitting of an operations manager. For the awkwardness you felt asking a question. For dismissing ideas you had to make the business better and the favor given to a few team members over the rest of the team."
In the weeks after Macpherson's resignation, Calnan wrote, "it feels like we have our team back — the office no longer has a heavy cloud over it." She signed off with: "to each of you, I just want to say thank you. xx"
Before she left the company and took legal action, Macpherson was featured in a Q&A on the Metro Property Management website helping clients get to know the staff during the COVID-19 lockdowns.
In the interview, Macpherson said she looked forward to reuniting with her "local barrister" for a coffee once restricted eased, misspelling barista.
The comment turned out to be prescient: her County Court writ was prepared by defamation barrister Toby Mullen.
Among the defamatory imputations that Macpherson claims Calnan made about her that she failed in her professional duties, is dishonest and lacks integrity, and that she was the cause of an "uncomfortable and awkward working environment" at Metro Property Management.
Macpherson contends the email was retribution for her refusing to continue to be listed as the agency's officer in effective control and a suspicion by Calnan that she had taken another job.
According to her LinkedIn page, Macpherson now works at real estate company Ray White.
Macpherson asserts that Calnan failed to retract or apologise for the email, instead responding to a legal letter with a demand the complaint be withdrawn.
Loading
Calnan also allegedly threatened to commence proceedings against Macpherson for breaching employment obligations.
Macpherson is seeking damages, including aggravated damages, and a permanent injunction preventing Calnan from further publication of the imputations.
Calnan did not respond to requests for comment and is yet to file a defense in court.
Macpherson's lawyer also did not respond to an inquiry from The Sunday Age.
The Morning Edition newsletter is our guide to the day's most important and interesting stories, analysis and insights. Sign up here.